Meadowbrook, Callington, PL17 7LG

01579 381 771

Arrange a viewing

Opening times
We're currently closed. We're next open on Thursday at 10:00
HOME EXCHANGE AVAILABLE
Callington
Meadowbrook

| Cornwall, PL17 7LG


2, 3 & 4 bedroom homes


from £374,995
We're currently closed. We're next open on Thursday at 10:00

HOME 27 - THE PRIMROSE 3-BEDROOM BUNGALOW - NOW £374,995!
Home 27 - The Primrose
This delightful 3-bedroom detached bungalow is now just £374,995 and includes upgrades throughout! Book your viewing to see this home on 01579 381771 or online via the link below.
New homes at Meadowbrook
OPEN 7 DAYS A WEEK
This stunning new development, called Meadowbrook (or Gover an Pras in Cornish), offers a stunning collection of 2, 3 and 4 bedroom homes, comprising of houses and bungalows. It has six acres of beautiful green space within the development which provides a natural habitat for local wildlife and for the whole family to enjoy.
Designed and built to a superior standard, with space and comfort in abundance, Meadowbrook is a beautiful place to live and will be enjoyed by generations to come.
This delightful new address is only a short distance from the city of Plymouth, and surrounding towns like Liskeard and Saltash. Making this the ideal location for commuters and families who want close connections to the towns.
Development Layout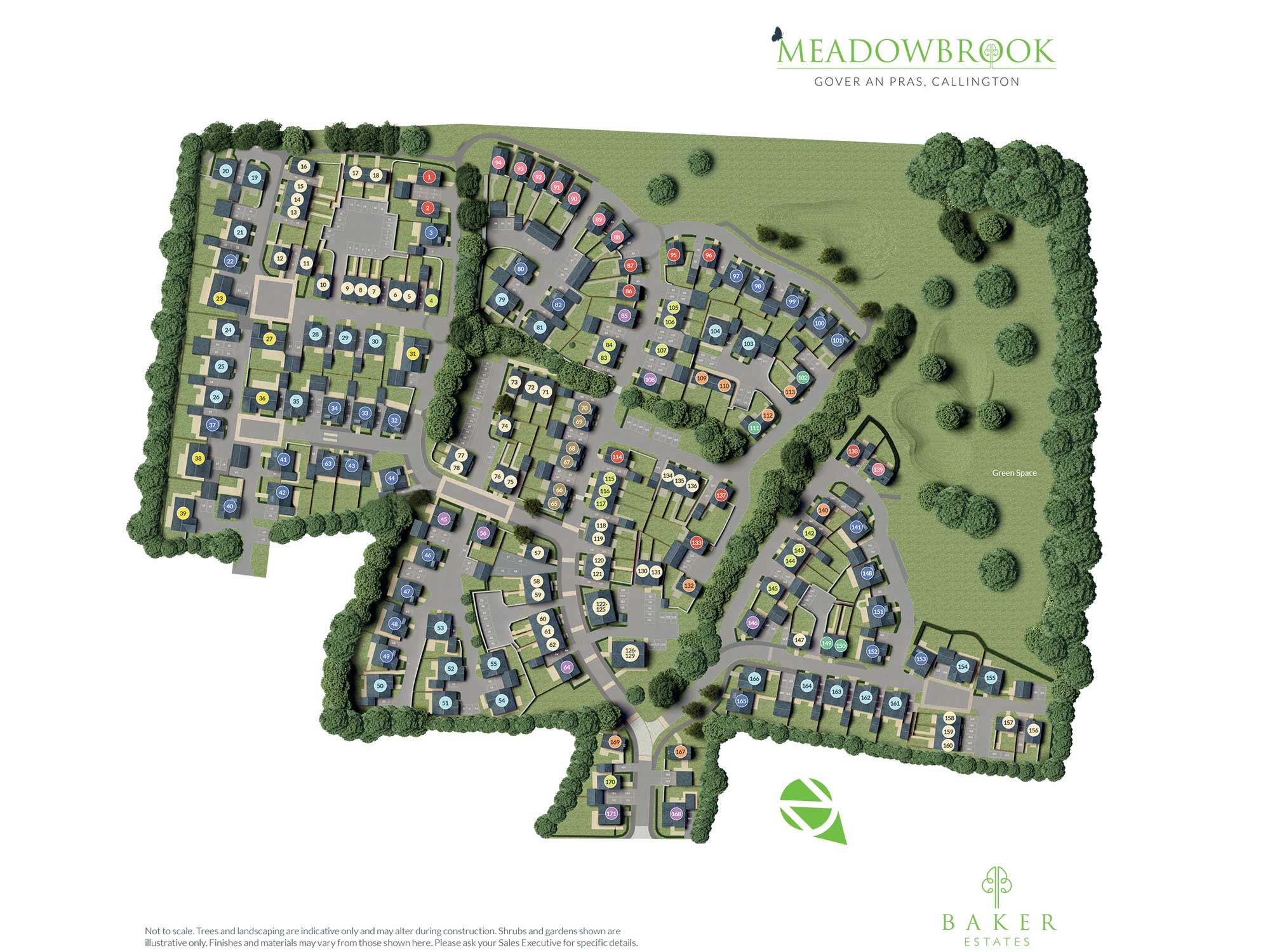 VIEW THE VIRTUAL DEVELOPMENT WALK-THROUGH
Callington
Callington, with its Saxon heritage, is a charming picturesque market town, situated in the beautiful area of south east Cornwall and only a 30 minute drive to the city of Plymouth. There is a traditional weekly market that sells fantastic local produce and has several delightful pubs, cafés and restaurants.
OPTIONAL UPGRADES
FOR YOUR NEW
BAKER ESTATES HOME
Make your new house your dream home with our wide range of optional upgrades and extras. Designed to let you customise your new home with ease, take a look through our brochure and explore your options.
Download yours
ENERGY EFFICIENT FEATURES IN YOUR NEW BAKER ESTATES HOME
We are committed to reducing the environmental impact of our homes, so we make sure that every Baker home comes with energy-efficient features as standard – also helping to save you money.
Find out more
Gallery
Click image to zoom
<
Map showing places within a 15 mile radius
You can zoom in and out by holding CTRL or ⌘ and using the mousewheel